Welcome to my Homepage!
Hey Honey, I'm Shiny Kim your cute petite Fetish Princess. My addiction are all shiny fabrics like Satin and Silk, PVC / Vinyl, Plastic, Metallic, PU Leather, Velvet and more =) Here you'll find all my fetish videos and pictures or you join my fetish livecam.

I'm so happy that you're here! Please enjoy it!
New stuff by me =)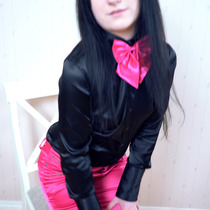 Hello and nice to see you on my homepage :) The site is still brand new, so do not be surprised if there are still some empty links here and there. I will add a lot in the next few days.
But I have already uploaded all of my current videos! Of course I will make more :)
You can write me or visit me in my cam. I would be very happy :)
Kisses Kim